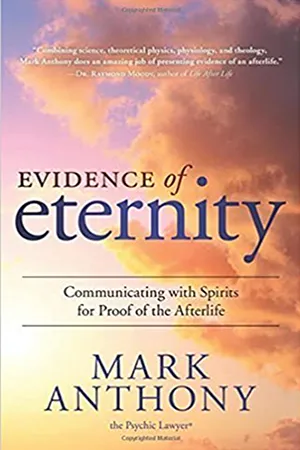 Discover the enlightening and comforting true stories of Mark Anthony the Psychic Lawyer® as he helps people communicate with their loved ones in spirit.

Evidence of Eternity

is an uplifting journey that removes the fear and superstition surrounding spirit contact while addressing poignant questions about the afterlife. It provides insights on painful subjects such as crime, homicide, suicide, and survivor guilt.

By bridging the gap between the spiritual and scientific, this groundbreaking book brings spirit communication into the modern era while reaffirming that God and heaven exist, the soul is an immortal living spirit, and that we will be reunited with our deceased loved ones.

Evidence of Eternity

introduces new and innovative terms and concepts explaining spirit communication based on science, theoretical physics, physiology, theology, and evidence. From karma and reincarnation to embracing the inner light,

Evidence of Eternity

is a cutting-edge perspective of life after death.